Today, for the third Italian lesson on the blog, we're going to look at
Nine Steps to Perfect Your Italian Pronunciation (
to get you talking like a pro!)
image
source
Italian pronunciation is actually relatively easy,
especially when you compare it to English. In Italian, there are set pronunciation rules that, once learnt, are simply a matter of practising and remembering, whereas for someone learning English as a second language, the irregularity of the phonology must be mind-boggling. Just think of all the different ways that the combination of letters 'ough' is articulated in the following words:
dough, through, plough, enough, cough
and
hiccough
. And there are countless other words that a foreigner would assume that rhyme in English - like
shoes, does
and
goes
or
singer, linger
and
ginger
or
mover, cover
and
clover -
which simply don't. No logical reason why they don't. They just don't. In fact, English pronunciation is so haphazard that George Bernard Shaw once said that if you took the 'f' sound from 'enough', the 'i' sound in 'women' and the 'sh' sound in words ending in 'tion', the letters GHOTI could be used to represent the word 'fish'!
Luckily for learners of Italian, the language is what is known as a
phonetic
language, meaning that the sounds are (almost) always written using the same combination of letters each time.
Here are the 9 Steps to get you pronouncing, to perfection, the lyrical lingua italiana:
1.
You need to roll your Rs
. If you don't, the first problem you will probably encounter will be confusing your
carne
(meat) with your
cane
(dog), like once when I was preparing meatloaf (one of the first times I cooked for my partner) and he came into the kitchen and said "
Che buon odore! Che stai cucinando?
" - 'What a great smell! What are you cooking?" to which I replied, smiling broadly and completely oblivious to my failure to roll out my R sufficiently, "
Polpettone di cane
", meaning;
2.
In Italian words, the stress is (
almost always
) placed on the
second last
syllable of a word:
Spa
ghe
tti
Fer
ra
ri
Mi
la
no
If a word has only two syllables, the stress is therefore placed on the first syllable:
Ca
sa (house)
Ro
sso (red)
Ga
tto (cat)
When the stress is
not
on the second last syllable, this is indicated by an accent on the final vowel, which looks like this:
à, è, ì, ò, ù.
You need to be careful to articulate these accents, so as not to inadvertently say a completely different word. When you pronounce an accented vowel, your voice should go up. An unaccented vowel, in comparison, is flat.
Naturally, I learnt this the hard way. When I was an exchange student in northern Italy as the age of fifteen, I was sitting down to dinner one night with my host family and half a dozen of their extended family, when the phone rang. I was expecting a call from my family, so I got up to answer it. It was my dad and we spoke from a short while (international calls were still quite expensive in those days!) and when I got off the phone, I went back to the dinner table and announced "Scusatemi, stavo parlando con il papa". I thought I was very clever and that I had just said, perfectly, "Sorry, I was just talking to dad", but no, as it turns out, I actually said ...
Note to self:
papa
= Pope and
papà
= dad
3.
Learn when to make a Ch sound and when not to
.
* In Italian, the letters 'C' and 'H' together do
not
make a 'ch' sound as they do in English.
Chiesa
(church) is pronounced 'key-air-zah'
La chiesa è bellissima
- the church is very beautiful
Che (what) is pronounced 'ke' ('k' as in 'kitchen' and 'e' as in 'elephant')
Che ore sono?
- What time is it?
* The following combinations of letters,
do
make a 'ch' sound though:
ce
and
ci
cena
(dinner) is pronounced 'chen-nah'
Cosa mangiamo per cena stasera?
- What shall we eat for dinner tonight?
cinema
(cinema), although spelt the same, is pronounced 'chin-em-ah'
Hai visto il film Cinema Paradiso
? - Have you seen the film Cinema Paradiso?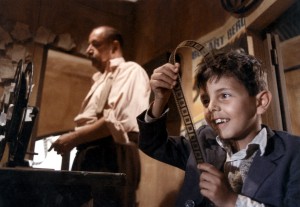 image
source
4.
Be careful when you see an 'S' in front of a the letters ce and ci, because the 'S' changes their pronunciation.
* 'schi' and 'sche' make a sk sound
* 'sci' and 'sce' make a shh sound
schifoso
(disgusting) is pronounced 'ski-fo-so' as you would assume from the 'chi' example above,
but
sciare
(to ski) to pronounced 'she-ar-air'. '
Sci
' makes a
shh
sound.
scheletro
(skeleton) is pronounced 'skel-et-ro) as you would expect from the 'che' example above,
but
scena
(scene) is pronounced 'shair-nah; the '
sce
' also making a
shh
sound.
Al teatro, ho visto una scena proprio schifosa
- At the theatre, I saw a really disgusting scene.
5.
Gs need some attention too ...
*
When placed before the letters a, o and u, the Italian G sounds like soft the English G in 'goat'
:
gabbia
(cage)
goloso
(greedy)
gufo
(owl)
Nella gabbia, c'è un gufo goloso
- in the cage, there is a greedy owl.
*
When placed before the letters e and i, the Italian G sounds like the hard English G in 'gel
':
gelato
(ice-cream)
giardino
(garden)
Abbiamo mangiato un gelato nel giardino
- we ate an ice-cream in the garden.
*
Ghi and Ghe are pronounced like the soft English G in 'goat'
:
laghi
(lakes)
alghe
(algae)
Che schifo! Tutti i laghi sono pieni di alghe
- How gross! All the lakes are full of algae.
*
Gli can be a difficult sound for English speakers to pronounce. It makes a sound similar to the double L sound in 'million':
figlio
(son)
aglio
(garlic)
Mio figlio puzza perché mangia troppo aglio
- my son smells because he eats too much garlic
Here's a video I found on YouTube featuring a beautiful Italian girl and her deliciously cute nephew explaining how to make this 'gli' sound ...